Christine Schrage
Global Opportunities Coordinator
Instructor of Marketing & Entrepreneurship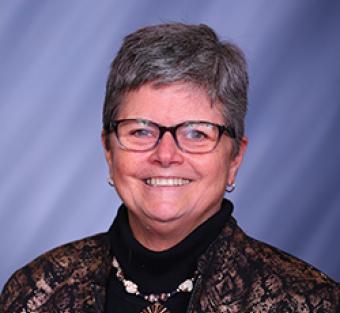 Christine Schrage
Global Opportunities Coordinator
Instructor of Marketing & Entrepreneurship
In addition to her teaching responsibilities, Chris works to expand the international reach of the College. She develops and coordinates international internship placements for students, advises on study abroad opportunities, applies for and manages grants supporting the College's international efforts, and serves as advisor to the Global Associates and Supply Chain Management Association. Since 2001, 30 teams under her advisement have competed in five different student competitions. She has written 5 cases used in international competitions. She has also developed four international capstone courses and leads professional development trips as well.
Education:
M.B.A. and B.A. (Marketing) University of Northern Iowa; CPH Language Cross-Cultural School, Santa Ana, Costa Rica; A.A.S. - Animal Science, Hawkeye Institute of Technology
Teaching Interests:
International Business and Relations; Global Trade Practices; Global Marketing
Research Interests:
International management and marketing; Entrepreneurship and Micro-credit operations in underdeveloped countries, trade.
Professional Accomplishments:
Chris has a history of rural entrepreneurship that has extended into her international outreach efforts. Prior to coming to UNI, Chris was employed by several different firms. Most notably she worked six years as an account specialist and branch manager for a leasing firm, managing a $20 million dollar portfolio of lease contracts. Building upon that and other work experiences, she established Pork Purveyors, Ltd., a swine production and management consulting firm, eventually managing over 50 swine operations in the Midwest and Surgical Device International, providing devices and training to veterinarians in the U.S. and international locations. She also worked part-time for three years as the Parkersburg Economic Development Coordinator. She has given many conference and executive development presentations focused on micro-enterprises in developing countries in addition to five publications on a range of similar topics. In 2006, she earned NASBITE's Certified Global Business Professional (CGBP) credential, and she was awarded the designation of Certified CGBP Trainer in 2011. Chris received the 2015/2016 UNI CBA Special Recognition Award and was inducted into the National Society of Collegiate Scholars in 2014. Due to her interest in cultural training, she just completed her 5th book on children in other countries.