Accounting Major
Drive business success because you understand the numbers!
If numbers are your game, up it here at one of the country's best accounting colleges. Accounting graduates are in high demand among small and large corporations, government agencies and nonprofits. With your knowledge, you'll develop informative financial reports to influence critical business decisions, and you'll be in a position to keep an organization's finances in check. From learning to lead accounting and business analysis teams to running your own company, at UNI, you'll develop the skills and expertise to progressively lead a company forward. 
Our accounting degree is the first STEM-designated program in Iowa. As part of the designation, international students qualify for 3 years of Optional Practical Training (OPT).
$178k
Median Corporate Controller Salary
According to Robert Half 2020 Salary Guide. Starting salaries for accounting majors range from $54k-$60k according to NACE (2019). 
96%
Career
Placement
Students graduate with multiple job offers in hand. And the majority of time, 100% of graduates have position within six months of graduation (2020).
70%+
CPA Pass Rate
That means UNI accounting graduates pass the CPA exam, far outpacing the state average of 33%.
Find out More About Accounting
Tell us more, and we'll send you information on the accounting major at UNI's top-ranked business college.
CPA or Non-CPA Track
While accountants might handle the more general accounting tasks, Certified Public Accountants (CPAs) are typically more involved in guiding big picture financial decisions for an entire company. A CPA is a trusted partner in organizational leadership and often part of the strategic team; these positions offer financial and career opportunities that go above and beyond a general accounting degree.
Non-CPA accounting majors often work in several different positions in a variety of companies. As an accountant, you can work for big and small businesses, school districts and various non-profit and government organizations. Adding a minor like Entrepreneurship, International Business or General Business Concepts round out an accounting degree and offer a wide range of career opportunities. There are many executives, vice presidents and CFOs in Fortune 500 companies who are not CPAs.
A Top 3 CPA Exam Pass Rate
The CPA exam consists of four parts. A student must pass all four parts to become a CPA. Before the digital age, students were required to take all parts of the exam over two days, which provided clear pass/fail statistics. Today, the test is given online with flexibility on when students sit for each part. Each part is scored separately, but students still must pass all four parts to be licensed.
Due to the exam's flexibility, many students who start the CPA exam never finish it, delaying their CPA licensing progress. CPA review courses that are taken the final semester at UNI lead to the majority of our students completing and passing the CPA exam before their first day of employment.
The CPA Success Index ranks the University of Northern Iowa as one of the best schools in the nation for students who want to pass the CPA exam.
---
Accounting Careers
University of Northern Iowa's accounting program will arm you with the skills to collect, analyze and interpret financial data so you can efficiently communicate the impact with decision-makers within the organization. Frequent careers and job titles in accounting include:
Business Consultant
Financial Analyst
Internal Auditor
Personal Banker
Risk Assurance Consultant
Tax Accountant
Tax Associate/Specialist
Technology Consultant
---
Accounting Courses
UNI is nationally known as a top institution for CPA professionals because we tie professional-level exam preparation into the curriculum. If you plan to practice as a CPA you'll be responsible for completing a predetermined amount of semester hours. Iowa and most states require 150 credit hours to become a CPA. Typical CPA and non-CPA career track courses include:
Principles of Financial Accounting
Principles of Managerial Accounting
Intermediate Accounting
Advanced Accounting
Cost Accounting
Accounting Information Systems
Income Tax
Advanced Tax
VITA: Volunteer Income Tax Assistance
Auditing
Legal Concepts for Accountants
Government and Not-for-Profit Accounting
Principles of Fraud Examination
CPA Review courses
Each year, UNI accounting students prepare hundreds of tax returns free. The Volunteer Income Tax Assistance (VITA) program was established by the Internal Revenue Service to help those who may find it difficult to pay for tax preparation services. Certified volunteers receive training to help prepare basic tax returns in communities across the country. The UNI accounting department staffs a site to serve members of the Cedar Valley community.
Top Employers
Our graduates are in demand! Whether you want to climb the corporate ladder at one of the big four accounting firms or start your own tax service, you'll be getting the business knowledge and professional skills to succeed at Wilson's College of Business. 
Here are a few of the companies where our accounting alumni work:
AEGON | Transamerica
BerganKDV
Deloitte
Ernst & Young (EY)
Farm Bureau Financial Services
HON Company
Hy-Vee, Inc.
IBM
John Deere
KPMG LLP
PwC
RSM US LLP
Beyond the Classroom
Shape your leadership skills and have some fun by joining a student organization.
---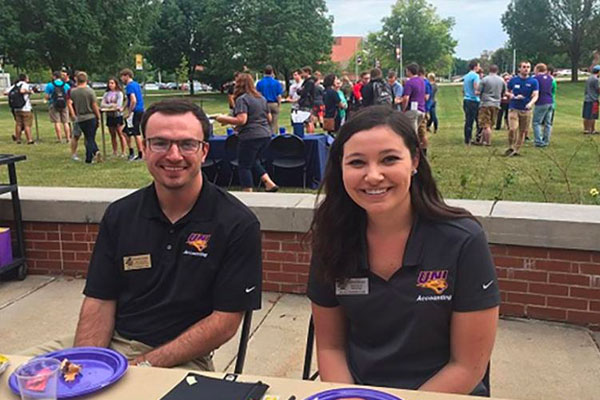 The University of Northern Iowa Accounting Club is the premier student organization for accounting students and is well-respected by business professionals across the Midwest. As a UNI Accounting Club member, you'll have access to the latest career information, attend networking events with potential employers or recruiters and increase your social interaction with other students who are majoring in accounting. 
---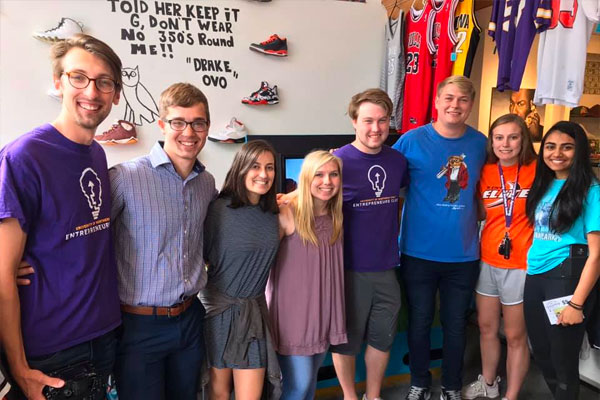 Ever wanted to be your own boss? Accounting is a great way to enter the business consulting field. Enhance your skills by joining the UNI Entrepreneurs Club. This group of students actively focuses on developing and utilizing the skills necessary to form functioning revenue-earning identities.