Economics Major
What can you do with an Economics degree?
Almost anything! A career in the field of economics demands a unique way of looking at the world. If you're constantly thinking about how people respond to incentives and how one action can influence another, you're already thinking like an economist.
Economics often involves topics like wealth, finance, recessions and banking, leading to the misconception that economics is all about money and the stock market. Actually, it's about people! How will an aging population affect life in the coming decades? How will the workforce change with advances in robotics, automation, and artificial intelligence? An economics education helps you understand historical trends, interpret today's headlines and make predictions for the coming years.
100%
Career
Placement for Economics
Our economics graduates are prepared to meet the growing demand for economic and analytical skills (2020).
Develop your 
analytical reasoning
Employers are looking for professionals that know how to interpret data and make logical conclusions. 
$108k
Median Economist
Salary
According to the Bureau of Labor Statistics (2021). This field is only expected to grow in the future. 
Find out More About Economics
Tell us more and we'll send information on how you can succeed with an economics degree from the David W. Wilson business college.
Types of Economist
There are three principal career paths available to an economics major in the fields of business, government and academics.
The Business Economist
The primary role of a business economist is to help firms understand and adapt to a changing economic environment. Business economists interpret and forecast the general economic climate, analyze conditions specific to their firm and aid the firm's operational efficiency.
The Government Economist
The range of jobs for economists is as broad as the government itself. Government economists work for agencies in the fields of agriculture, business, banking and insurance, finance, labor, transportation, utilities, urban economics and international trade.
The Academic Economist
There are many opportunities for Economics majors to teach at the high school and college levels. At the collegiate level, Ph.D. economists will continuously be in high demand.
Beyond these paths, Economics majors find work in almost all industries. Economics will teach you how to develop your analytical problem-solving skills that are in demand in every sector of the economy.
---
Economics Careers
The Bureau of Labor Statistics (BLS) reports that employment of economists is projected to grow 14 percent from 2019 to 2029, much faster than the average for all occupations. Job prospects are best for those with strong analytical skills and experience using statistical analysis software. The BLS (2020) also reports the national median annual wage for economists was $108,350.
Below are some occupations where those with an economics degree are found: 
Actuary
Attorney
Bank Manager
Economic consultant
Energy Analyst
Financial Analyst
International Tax Manager
Legislative Aid
Operations Manager
Professor
Stock Broker
Underwriter
Research Analysts
‌Four-Year Plan - Applied Economic Analysis
---
Economics Courses
An Economics major gives you a solid understanding and experience in economic theories and practices along with great flexibility to determine the courses that will best serve your career goals. Economics majors complete coursework in the following areas:
Intermediate Macroeconomics Theory
Intermediate Microeconomic Theory
Introduction to Econometrics
Money and Banking
Public Finance
Environmental Economics
Economics of Labor Markets
International Economics
Law & Economics
Sports Economics
Economic Development
Health Economics
Economics of Social Issues
Economics of Sustainability
Economics & Business Forecasting
‌Four-Year Plan - Business Economics
Top Employers
Our graduates are in demand! Whether you want to work in government as a legislative aid or help companies as a Business Analysts, you'll be getting the business knowledge and professional skills to succeed at Wilson's College of Business. 
Here are a few of the organizations where our economics alumni work: 
CPM Holdings, Inc
Federal Reserve
GreatAmerica Financial Services
Iowa Division of Banking
Kingland Systems
Kunkel & Associates
OpticsPlanet Inc.
Polaris
PwC
Wells Fargo
LIFTinnovate
Beyond the Classroom
Student organization participation is the perfect way to dive deeper into your economics degree.
---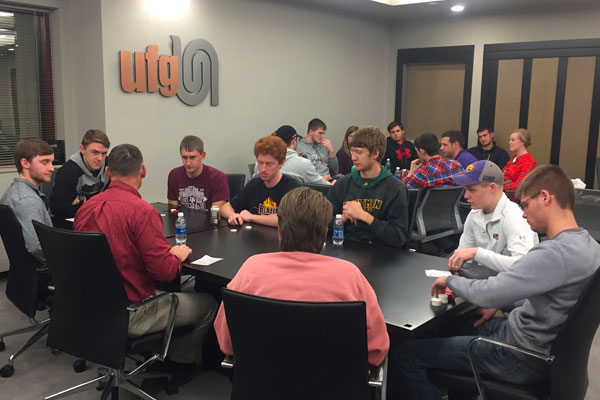 Open to all majors, the Economics Club hosts a variety of activities throughout the year including, service projects, guest speakers and panel discussions on timely topics. Past trips have included visits to the Federal Reserve Bank of Chicago and the Chicago Board of Trade.
---
The Pre-Law Club is open to all majors and provides many networking opportunities for those interested in pursuing a law degree. Activities include Law School Admissions Test (LSAT) assistance, panel discussions with local attorneys and presentations by law school recruiters.