Finance Major
Be a financial superhero with a degree in finance!
Businesses, organizations and individuals must manage money to reach their goals. For an individual, the goal could be retiring at age 40. For a business, that may mean maximizing profits. For a food bank, increasing the number of people that it serves. Successfully reaching the goal requires proficiency in financial management. 
To make sure that you are prepared for a career in finance, our faculty provide experiences that allow you to apply your growing finance knowledge. For example, our finance students make actual investment decisions and help grow our student-managed Krause investment fund. Yep! You are managing real money before you graduate. This experience and others ensure you'll be highly capable of managing financial assets for a variety of organizations and individuals who need a financial expert to thrive and grow.
$510k
Value of student-managed 
funds
Krause Fund $380K, Panther Fund $130K (2021)

Top 10 Career
A study of job postings in the Des Moines area (2019-2021) revealed Financial Management in the Top 10. (STAMATS)
$134k
Median 
Salary
According to the Bureau of Labor Statistics for Financial Managers in 2021. 
Find out More About Finance
Tell us more and we'll send information on how you can succeed with a finance degree from the University of Northern Iowa's business college.
What's the difference between finance and accounting?
Although related, finance and accounting are very different. Finance professionals look at income statements and cash flow reports prepared by accountants to make future financial decisions.
They analyze expenditures to decide when a company or individual should borrow money, issue or buy stocks and bonds, etc. A simple way to look at it, accounting reports on spending of the past where finance decides how funds will be spent in the future.
Finance Major Career Tracks
A UNI Finance degree provides you with the tools to excel in a finance career immediately following graduation. Depending on your career goals, our program provides three emphases that will help you reach those goals.
Financial Management
​​​​Acquire the financial decision-making expertise used in any corporation, financial institution or small business.
Investments
Gain knowledge in analyzing financial markets and managing financial assets such as stocks and bonds.
‌Personal Wealth Management
Attain proficiency in financial planning for the future and help others build their personal financial assets.
---
Finance Careers
With a Finance degree from UNI Business, you'll be highly capable in organizing and managing assets for a variety of companies and individuals. The career paths in finance are as varied as the industries and organizations who hire Finance degree graduates.
Some careers include:
Financial Advisor
Loan Analyst
Portfolio Analyst
Financial Planner
Loan Officer
Personal Banker
Financial Manager
Mortgage Analyst
Stock Broker
Securities Analyst
---
Finance Courses
Classes like Principles of Investments and Advanced Financial Management will quickly get you up to speed on how to analyze, manage and invest money for financial firms, groups of individuals or individual investors. All finance classes are taught by faculty who have years of experience preparing students like you for life in the financial world.
Corporate Finance
Principles of Investments
Intermediate Financial Management
Advanced Financial Management
Securities Analysis
Options and Futures
Real Estate Finance
Commercial Bank Management
International Financial Management
Fixed Income Analysis
Introduction to Personal Financial Planning
Applications of Financial Planning
Personal Wealth Management
‌Four-Year Plan - Financial Management‌ ‌Four-Year Plan - Investments ‌Four-Year Plan - Personal Wealth Management
Top Employers
Our graduates are in demand! Whether you want to start your own firm and become a financial advisor or work as a loan analyst at a bank, you'll be getting the business knowledge and professional skills to succeed at UNI's College of Business. 
Here are a few of the companies where our finance alumni work: 
Northwestern Mutual
Robinhood
AEGON | Transamerica
Aflac
Collins Aerospace
Cottingham & Butler
Fareway Stores
Farm Bureau Financial Services
Federated Mutual Insurance Company
Fidelity Bank & Trust
GEICO
Grinnell Mutual
IBM
Johnson and Johnson
Principal Financial Group
Quicken Loans
Veridian Credit Union
Wells Fargo
Beyond the Classroom
Shape your leadership skills and have some fun by joining a student organization.
---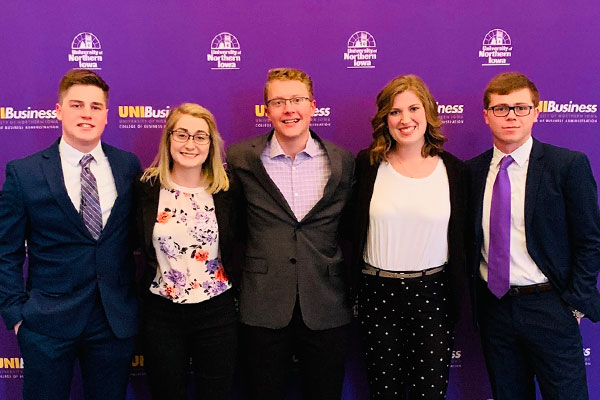 The University of Northern Iowa Finance Club is the premier student organization for finance students and is well-respected by business professionals across the Midwest. As a UNI Finance Club member, you'll have access to the latest career information, attend networking events with potential employers or recruiters and increase your social interaction with other students who are majoring in finance. 
---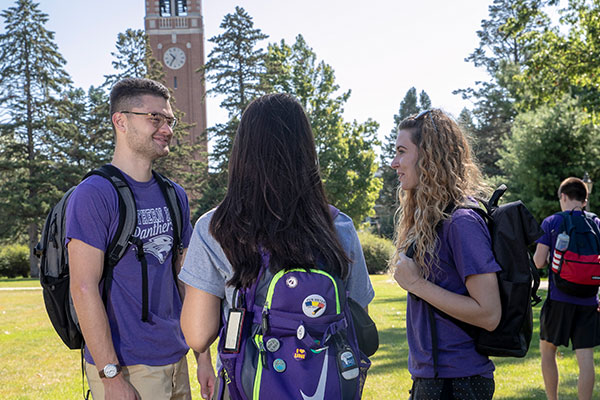 The Mission of Business Professionals of America is to develop and empower student leaders to discover their passion and change the world by creating unmatched opportunities in learning, professional growth and service. Members participate in activities to accomplish their goals of self-improvement and leadership development.