David W. Wilson College of Business
Get Ready for Business®
Join a top-ranked business college today. Your future self will thank you.
Preparing you for a fulfilling career, a successful future, and a life you're proud of are core beliefs in UNI's business college. This is about having a meaningful life that you're excited about after graduation. To make that happen, you'll work alongside some of the most influential leaders and an elite faculty who put your interests first. You'll have a partner in your progress every step of the way. Experience over 20 undergraduate programs, an internationally recognized MBA program, valuable internships, a study abroad, certifications and prominent mentors. It's why students serious about a future in business seriously consider UNI. When you start here, you can go anywhere.
---
Largest gift in UNI history establishes 
David W. Wilson 
College of Business
A historic gift to the University of Northern Iowa will mark a new chapter in the university's renowned business college. David Wilson, a 1970 graduate of UNI, has pledged a $25 million donation that will chart a bold path for the future of the College of Business, fueling strategic initiatives and investing in faculty and students.
‌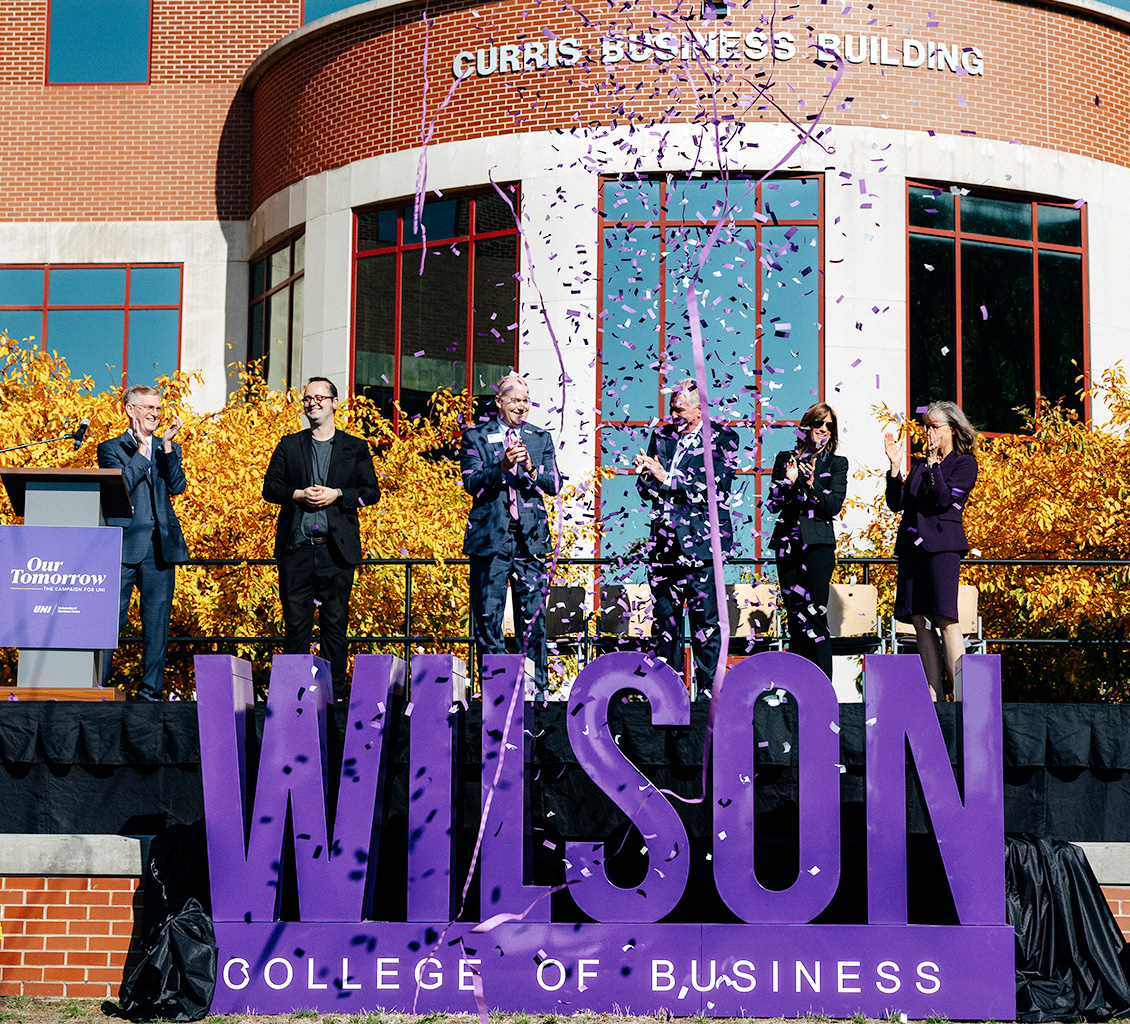 ---

95%+
Career Placement Rate
Many UNI business graduates get multiple job offers.

1 in 4
Students have
an abroad 
experience
Employers value global experience.

5
Month
Advantage
On average business grads have secured their job 5 months before graduation (2020)
Why Study Business at UNI
Success in today's global business environment requires more than book smarts
It's not what you know, but what you can do with what you know that sets the stage for your career success. Here you'll have countless opportunities to apply business concepts to real business problems. Additionally, you'll experience a one-of-a-kind development program to help you stand out to employers.
Professional Readiness Program®
The biggest employers recruit Wilson Business grads because of our commitment to both soft and technical
skills that help in and beyond the workplace. The one-of-a-kind Professional Readiness Program provides students with business certifications and communication skills that companies value.
Ranked among the best
Wilson College of Business is consistently among some of the top business schools in the country and has been named "A Best Business School" by the Princeton Review for more than a decade. We have earned accreditation from the AACSB — a distinction belonging to fewer than 5% of business schools worldwide.
‌Take your next step
We boast a 95%+ career placement rate and help you grow a valuable network of professionals and mentors. Get started today on building your foundation for the future.
Data-driven business education for the modern world.
Our everyday lives are producing massive amounts of data. Data that is interpreted and used to influence decision-making in many organizations across all industries and municipalities. The interpretation is no longer limited to the analysts. Data savvy professionals are now a requirement of all business careers–and why data analytics is infused into our business core.
Progressive business careers start here.
‌Undergraduate Programs
More than 20 programs offer you majors, minors and certifications in today's most dynamic and progressive business careers.  Coursework combined with internships, mentorships, study abroad, the Professional Readiness Program, and student organizations and activities, you'll develop the most sought-after skills to set up apart and above all others.
‌Graduate Programs
Go the next step with a highly respected and valued UNI graduate degree. Continuing your education is an investment in a long-term outlook. With an emphasis on future-focused innovation and what's next, experiential learning plus face-to-face interactions with your professors, you'll gain the deep knowledge to achieve beyond.