Business Student Life
Here to get you ready for business and so much more!
Landing your dream job and launching your successful career may start in the classroom but that is just the beginning. We set ourselves apart from the competition by helping our students set themselves apart. To make sure our graduates are career-ready on day one, we help students identify skills and experiences to rise to the top.
Earn A Professional Credential
How will you stand out in the hiring process? In your career?
We believe an outside certification plays an important role in helping you stand out, which is why we tie certification training into our curriculum. And, we have an excellent record for doing just that!
Our accounting students consistently rank among the nation's best on the certified public accountant (CPA) exam, a test developed by the American Institute of Certified Public Accountants that ensures students know the basics of accounting. Our accounting curriculum prepares them for this success. And, unlike graduates from other universities, most of our undergraduates take the exam before they graduate, ensuring they have the credential at the start of their business career. 
Do you have to be an accountant to earn a professional certification? No! Depending upon the program you choose, our curriculum can prepare you for gaining a professional credential either during your time at UNI or shortly after including:
Certified Associate in Project Management
Certified General Appraiser
Certified Global Business Professional
Certified Property Management
Certified Public Accountant (CPA)
Chartered Financial Analyst (CFA)
Certified Financial Planner (CFP)
Expanded Career Option for Secondary Teacher Licensure
Microsoft Certification
Six Sigma Green Belt
Develop Your Professional Skills
Success in today's global business environment requires more than book smarts
A successful business professional must navigate organizational dynamics, write clearly and concisely, speak with confidence and develop a career vision and strategy. Unfortunately, young graduates who don't develop these "soft skills" are at risk of missing out on major career opportunities.
The Professional Readiness Program® (PRP) was designed to give our students an edge on the competition by arming them with the skills to be career-ready on day one. The program includes mentorship from industry professionals, lessons on how to nail a job interview and practice giving an elevator pitch. Employers and the AACSB® have recognized PRP for its excellence in developing employees who are productive, knowledgeable and ahead of the curve.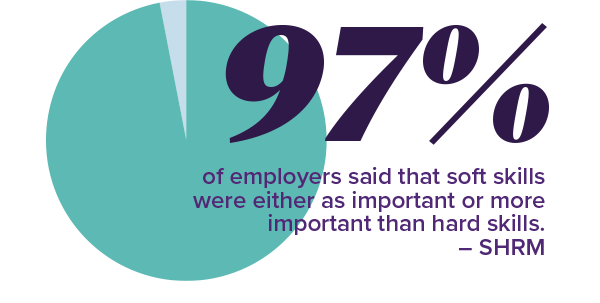 Solve Real Business Problems
Turn your book smarts into street smarts!
Our students begin developing their street smarts in the classroom by helping businesses solve problems in the form of live-client projects, making a positive impact on the local community in the process. But it also happens outside the classroom through a variety of real-world opportunities that are here for you, from preparing federal and state tax returns, serving on a board of directors, providing consulting services, or determining the value of a business, to name just a few. 
Academic competitions are another way to apply your business knowledge to solve problems, in this case competing head-to-head with other teams from schools located all over the country and around the globe. You test your knowledge and gain the skills, confidence and professional connections to get ahead.
And, don't forget about honing your research skills to gain even stronger insight into business issues. The Undergraduate Research Program (URP) allows you to conduct and present research projects under faculty supervision, provides funding to support your time engaged in the research process, and, should your paper be accepted at a conference, provides the funding to support your travel to attend. Plus, having your name on published research is a great way to build up a resume. 
All of these engagements ensure your successful transition from student to business professional and, in the process, also help you develop your own professional distinction.
Gain Real-World Work Experience
UNI Business partners with the University of Northern Iowa Career Services department to help you gain professional experiences through internships and other employment opportunities. Together, we help you identify career options, chart a career path, connect with companies and recruiters and uncover skill development opportunities that will help you meet your professional goals.
On average, 95% of our business graduates successfully launch their professional careers within six months after graduating, either by finding employment or continuing their education at graduate or professional schools.
Be a World Traveler
An international experience is a perfect way to set yourself apart.
According to a 2016 survey by the QS Global Employer Survey Reporter, six out of 10 employers around the world say international experience is a bonus. More than 80 percent said they actively sought out candidates who had international experience. No matter how you cut it, any type of experience abroad can help.
In the last few years, we have gone from a student participation rate in international study programs of 1-in-19 to 1-in-4 — the highest participation rate among University of Northern Iowa colleges. We offer programs that help you stay on track for a timely graduation and thanks to the generous donations from friends and alumni of UNI Business, we guarantee financial assistance for those international opportunities.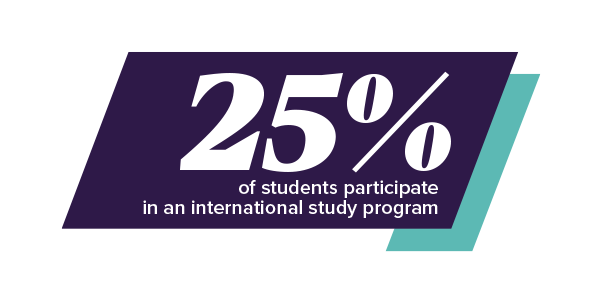 Start Your Own Business
Go From Idea to Reality
Nothing says ready for business quite like starting your own. Start your entrepreneurship journey here at UNI and take advantage of the resources that jumpstart your business ownership. Learn the strategies to market and evaluate your business idea, develop financial projects, and build out your business plan. Maybe even sell your business before you graduate as some of our graduates have done!