Business Ethics
Fostering awareness, discussion and debate about ethical practices in business.
Businesses can be a force of great good and harm. Now, with the rise of the global economy, companies' role in greater society is questioned. Should businesses seek to maximize profit or take the lead in solving the world's environmental and societal problems? Therefore, education in handling ethical issues is a critical part of any business degree. Explore how the David W. Wilson Chair of Business Ethics makes UNI Business one of Iowa's prominent authorities in business ethics.
Schedule of Upcoming Ethics Events:
Coming Next Semester:
Interested in Earning the Ethics Badge? Here are the required steps.
Electronically sign the Student Code of Ethics
 
Participate in the Ethics Case Competition
 
Attend at least two of the following events: Business Community Ethics Speaker Panel, Ethics Movie Night, and BaFa BaFa Cultural Simulation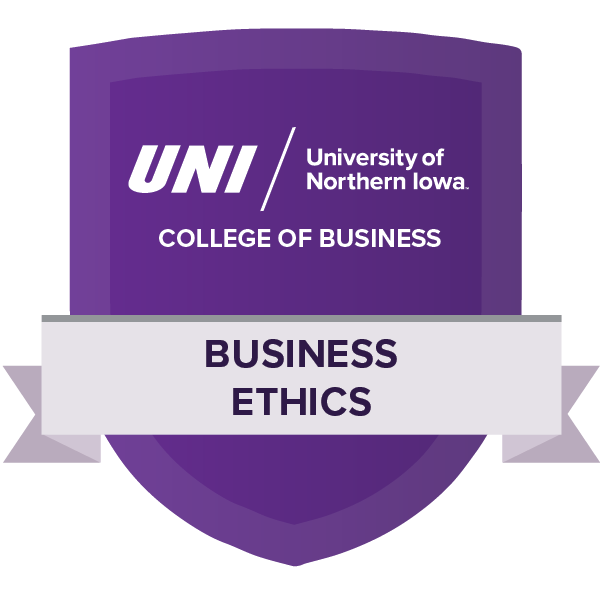 Ethics Mission Statement:
Our business ethics mission is to develop not only ethical student leaders but also future life-long business leaders via program development, faculty support, business community involvement, and student engagement.
Fill out the form below to electronically sign the code of ethics pledge.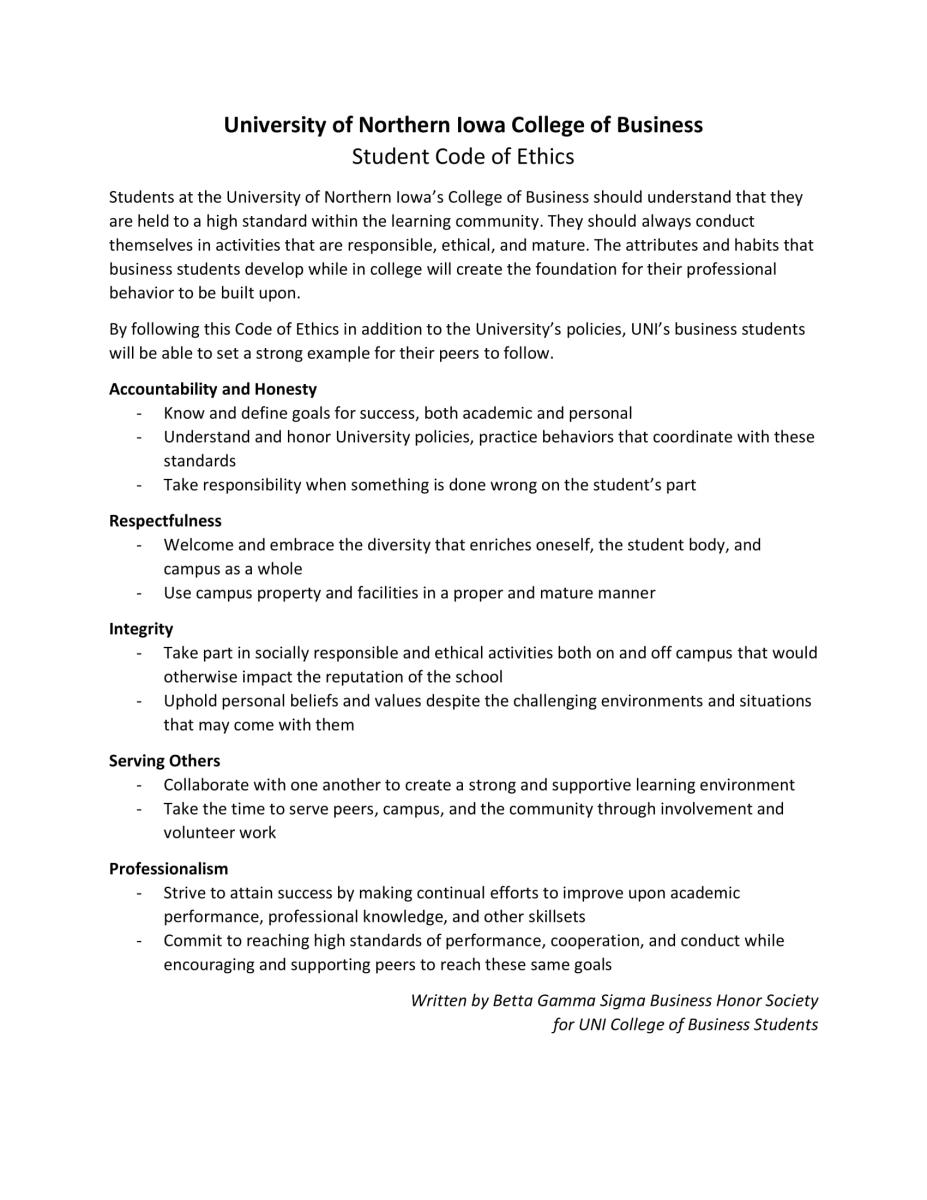 Faculty and Staff Ethics Interview Series
Episode 1: September 20, 2021 with Dr. Dale Cyphert
Episode 3: September 29, 2021 with Dr. Saif Bhuiyan
Episode 5: October 11, 2021 with Dr. Matthew Bunker
Episode 7: October 18, 2021 with Dr. Alicia Rosburg
Episode 9: October 20, 2021 with Drew Kahler
Episode 11: October 22, 2021 with Marty Hansen
Episode 13: October 27, 2021 with Dr. Brett Olsen
Episode 15: November 10, 2021 with Drew Conrad
Episode 2: September 27, 2021 with Dr. Dan Bumblauskas
Episode 4: October 11, 2021 with Kirsten Juhl
Episode 6: October 15, 2021 with Paul Kinghorn
Episode 8: October 18, 2021 with Chris Schrage
Episode 10: October 22, 2021 with Jay Schmitz
Episode 12: October 25, 2021 with Jenny Connolly
Episode 14: November 8, 2021 with Dr. Craig Van Sandt
Ethics Interview Transcript with Dr. Jim Mattingly