UNIversity Scholarship Application
---
Completing one application form the UNIversity Scholarship Application - allows both current and incoming students to apply for numerous scholarships specific to students enrolled in UNI Business.
The application form is available starting Sept. 1
Incoming freshman must apply by January 15 to qualify for freshmen scholarships.
Applications must be received by January 15 to be considered for most other UNI Business and departmental scholarships.
Scholarship recipients are generally notified in March or April for the following academic year's awards.
Students applying for the Social Engagement Scholarship and Scholarships for International Activities need to complete separate application
To apply please visit this link.  Then scroll down and find the section shown in the image below. Review the information and click on the application link.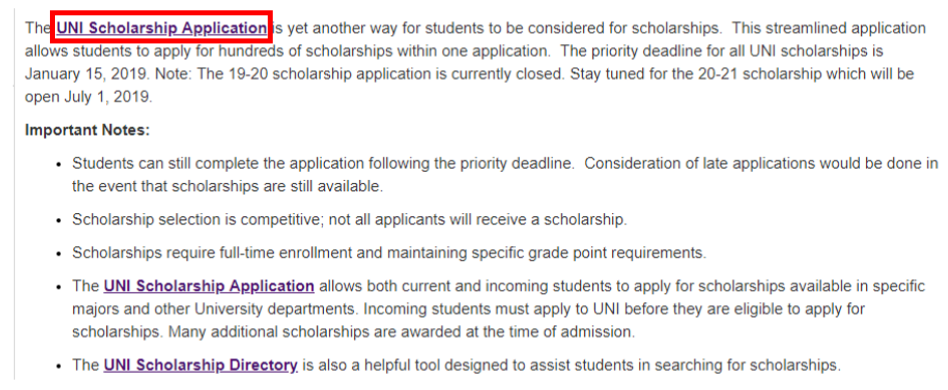 ---
Scholarship for Social Engagement
The UNI Business Scholarship for Social Engagement encourages students to serve their communities by removing the financial burden of unpaid internships with nonprofit organizations.
Full eligibility requirements and application forms.
---
Scholarships for International Activities
International experience is a critical part of a comprehensive business education. UNI Business removes financial barriers by making scholarships and travel stipends readily available.
Apply for UNI Business funding to support any UNI study abroad experience using the UNI Business International Opportunities Scholarship Application form.
Application Due Dates:
Summer programs: March 1 of the year of travel
Fall programs: March 30 of the year of travel
Winter break programs: October 1
Spring programs: October 30 of the year BEFORE travel